Ibrahim Ferrer
Like his
hermano en musica
Compay Segundo, Ferrer was born and raised in Cuba. This Afro-Cuban singer began crooning around the island to make money at an early age. With decades of practice singing traditional Cuban music, Ferrer had no trouble finding work in post-revolutionary Cuba.
The Afro-Cuban All Stars picked up Ferrer in 1996 to sing on their Grammy nominated album
A Toda Cuba le Gusta.
He sang a variety of songs like "
Amor Verdadero
" and "
Pio Mentiroso
," a track fronted by the late
Pio Leyva
, who would later reunite with his fellow Cuban Ferrer in Buena Vista Social Club.
Buena Vista Bolero
With the Cuban supergroup Buena Vista Social Club, Ferrer sang "
Y Tu Has Hecho
," a duet with Compay Segundo. But the one type of song that Ferrer enjoyed singing more than any other was the slow and sultry bolero. He finally had the opportunity with Buena Vista Social Club track "
Dos Gardenias
," and Ferrer sings it
con
todo su alma
.
Grammys
After Buena Vista Social Club showed the beauty of Cuban music to the world, Ferrer began some solo work. His 1998 debut
Tierra Caliente
earned the 71-year-old vocalist a Latin Grammy for Best New Artist!
Ferrer continued to woo critics with his smooth voice. He won a Grammy in 2004, but was not able to accept it. The 76-year-old's attendance had nothing to do with his age. Instead, the U.S. government would not allow Ferrer into the U.S. because he was considered a
security threat
. Ay caray!
Collaborations
Before this humble Cuban was banned from the United States, he worked with some musicians across the pond. But what English acts would want a traditional Cuban singer on their track? Easy -- the Gorillaz. The mysterious, two-dimensional artists included Ferrer on their song "
Latin Simone
."
He later added his voice to the collaborative album
Rhythms del Mundo: Cuba
. His recording of "
As Time Goes By
" joins the likes of Quincy Jones, Kaiser Chiefs and Coldplay. Not bad for a guy who sang on the streets of pre-revolutionary Cuba for money.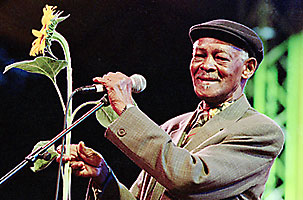 Tracks
Ferrer's last album,
Mi Sueño
,
was a posthumous release and a tribute to the bolero. If boleros aren't your style, then check out these tunes instead.
Gracias, Buena Vista Social Club
This concludes my overview on the band that reintroduced traditional Cuban music to the world. The band is full of talented musicians, and I apologize for only writing about two of them. I briefly mentioned Pio Leyva and never acknowledged
Eliades Ochoa's guitarra
. Before I return to these greats, feel free to check them out on your own.