This melting pot of musicians has been jamming for more than a decade. Their infusion of
hip-hop
, ranchero, reggae,
salsa
and funk allow this band to appeal to people around the world regardless of their music taste.
The Sound
Band members describe their music as when you "roll down your windows and the music that comes out of each and every different car... that crazy blend that's going on between that cacophony of sound is
Ozomatli
, y'know."
Pronounced "oh-so-motley." the band takes its name from the Aztec
monkey servant
to the god of music and dance. The band certainly lives up to the name with vocals, emcees, turntables and a horn section. It's like they have all the great parts from several musical styles.
Best of all, they've got plenty of songs in English too. This makes
Ozomatli
one of the best bands for non-native Spanish speakers to listen to when learning the language. Try it!
The Lineup
There are six key members to the band, but there have been up to 10 at one point. There have been more lineup changes in Ozomatli than the 2009 Pittsburgh Pirates. Two notable alumni include rapper
Chalie 2na
and DJ
Cut Chemist
, who both left the group to focus efforts on the west coast cult classic
Jurassic 5
.
A revolving door of band mates has not stopped this group from producing solid albums. Even though
Embrace the Chaos
hit stores on September 11, 2001, it still won a Grammy for Best Latin/Alternative Album. The band repeated the feat a few years later with their 2005 release
Street Signs
.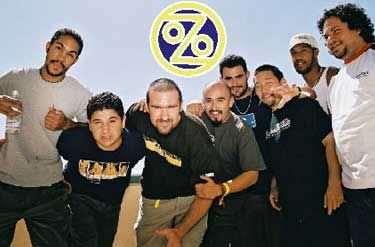 Appearances
This California-based ensemble has performed all over the world. Stateside, they have played Bonnaroo, Coachella and South by Southwest a few times. No stranger to political activism in their music, the band rocked a protest outside the 2000 Democratic National Convention with Rage Against the Machine.
They've also made it into the pop scene. Ozomatli jams "
Cumbia de los Muertos
" in Drew Barrymore's
Never Been Kissed.
If you're a fan of Showtime's "Weeds
"
you might have heard Ozomatli's version of the show's "
Little Boxes
" theme song. They even wowed the studio audience and viewers at home on "
Dancing with the Stars
."
Next week will be a closer look at Ozomatli's albums and all the music styles they embrace. Until then, look it up on your own, lazybutt!
-DJ Gringuito