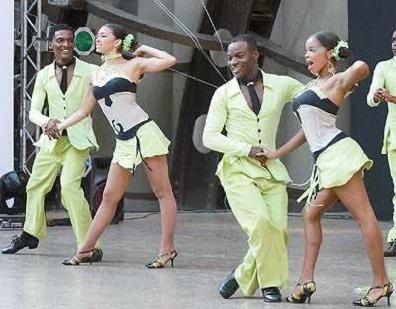 Salso: no, not the condiment, idiota.

Salsa is the term used for a wide variety of Spanish music. As a rhythm-less white guy from Southwestern Pennsylvania, I can say that this is the most exciting music that the Spanish mundo has to offer. But before I disclose all the embarrassing anecdotes of my attempts to enjoy salsa socially, a brief history lesson.
Salsa was not always known as salsa. In the revolutionary land of Cuba, salsa's precursor, son, was fused from African and Caribbean roots. I can easily say that two better music styles could not have been picked. No, not even Limp Bizkit's infamous Rap / Rock nonsense can top the upbeat tempos and audience participation that make salsa so fun. Sorry, Fred, your TRL fame cannot compete with decades of tradition.
Salsa bands are the equivalent of the big band orchestras that rocked the 30s and 40s of the Swing Era. Granted, cornerstones of the salsa band like claves and timbales had no place in the Glenn Miller Orchestra, but the two styles are quite similar in live performances. Both fill the stage with instruments to enliven the crowd onto the dance floor, and both rely on a lead vocalist to interact with the crowd.
Dayron y el Boom at Mambo Café in Mérida, Mexico showcase what to expect from the salsa experience: a full horn section, choreographed dance moves and, of course, a waterfall cascading in the background. Okay, maybe that last part is unique to Mambo Café, but you get the idea.
The major difference between these two genres is that Swing music faded into U.S. history, while Salsa continues to thrive in all areas of the Hispano hablante world. The music and dancing are embedded into Latin American culture. Everybody dances! The old couple in matching yellow outfits still move like they did when they were courting. The tough guys at the bar move their body in a dark club more than at the local gym. Back in the good ol' U.S. of A, most clubs are full of inebriated individuals trying their darnedest to practically fornicate on the dance floor. Where's the style, passion and culture in that?
Studying in México, I witnessed the craze that is salsa. From the gorgeous señorita to the lanky, ñoño,everyone knows how to dance. The innate ability to move their bodies so effortlessly is admirable. But rather than idly admire, I decided to join in the reverie.

Strike one.

My shoulder bobbing and foot stomping immediately attracted stares (as if being a half foot taller than everyone else on the dance floor wasn't enough).
In an effort to turn my luck around, I decided to approach girls asking "puedes enseñarme?" (can you teach me?).

Strike two.

If you're going to impress a member of the opposite sex on the dance floor, asking for a lesson is not the way. Embarrassment aside, failing at salsa was muchisimo more enjoyable than the classless bump and grind typical of dance clubs in the United States. Skill is required!
So I left México without any stories of sweeping a beautiful chica off her feet.

Strike three.

But in an effort to absorb some of the salsa culture, I have taken a few dance classes. Some were large groups of West Coast style salsa, and others taught New York style to small classes. Salsa truly is everywhere, and each place has its own variation of the music, dance and culture.
Now, I don't claim to be much better than I was in México, but as soon as restrictions are lifted from Cuba, you can be sure that this gringo will be on the first plane there to enjoy some cigars, mojitos, and an awkward dance or two. Who knows, maybe the mojitos will bring out the Marc Anthony in me.
Listen to any of these artists, and you'll be signing up for dance lessons as soon as you can find a place in Southeast Ohio that offers them. Qué chistoso! Good luck!
1. Celia Cruz
3. Wayne Gorbea
5. Marc Anthony
Stay spicy,
DJ Gringuito